With snow officially on the ground and cold weather brewing throughout Ontario, the regular fishing season has come to a halt. Luckily, there are many opportunities for ice fishing in Ontario throughout the winter! This ultimate guide will walk you through safety tips, choosing the right line, how to register an ice hut, the best places for ice fishing and so much more. Let's get into it!
Safety Tips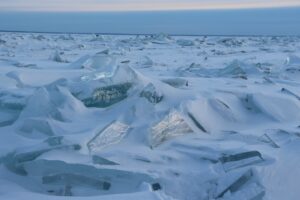 Before you even think about ice fishing this winter, it's important to keep a few safety tips in mind.
Be prepared – The winter's in Ontario are harsh, so ensure you have the proper attire to keep you warm, a fully charged phone on hand and always tell someone where you're going!
Ice doesn't freeze in uniform thickness – Before you step foot onto the ice, know whether or not it's thick enough to hold your body weight and gear. Ice doesn't freeze evenly and falling into freezing water could be fatal.
Be aware of the fishing regulations – Regulations will vary depending on where you fish and make sure to have your fishing license on you at all times. You can get your license here.
Choosing the Right Line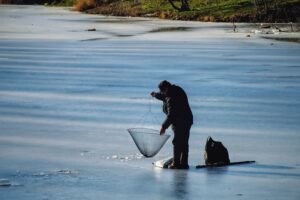 Before you head out for an ice fishing trip, it's important you have the proper gear you'll need for a day out on the ice. Since conditions are much different in the winter, you won't be able to use your standard fishing line but instead, invest in an ice fishing line!
Here are a few ice fishing lines worth trying out for yourself:
This high-quality ice fishing line will put your mind at ease when fishing in freezing conditions. It's perfect for the coldest temperatures in rivers, lakes and more and adapts quickly to its surroundings underwater.
This ice line is a fan fave for a few reasons. It sinks in cold water quickly, giving you more time to get more fish. It's incredibly thin so it's practically invisible in the water and it's quite sensitive which is great for beginners who are looking for control over their cast.
Old-school anglers typically use braided lines but they're also great for less experienced anglers. This line uses a water-repellent formula to avoid knots, breakage and twisting!
Registering an Ice Hut
Many people choose to bring an ice hut with them when they go ice fishing in Ontario as it can provide necessary shelter during harsh winter conditions! Before you set up your ice hut, ensure you have it properly registered with the provincial government.
It's free to register and once you've registered once, you never have to do it again. You can simply use the same registration number for any other ice hut you use afterwards. Just remember that ice huts must be removed by a certain date. Other than that, you're good to go!
Best Places for Ice Fishing in Ontario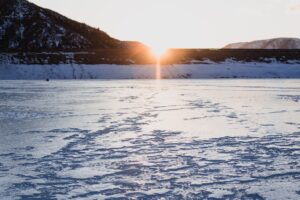 Ice fishing in Ontario is an angler's dream! Canada is home to many spectacular spots for ice fishing but here are a few that stand out:
Nighthawk Lake, Timmins:
If you're after a remote location with many species of fish to choose from, Timmins is right up your alley! Many anglers make their way to Nighthawk Lake to go hunting for speckled trout, northern pike, walleye, whitefish and perch.
Nippissing Lake, Nippissing:
Nippissing is one of the best spots in Ontario for ice fishing. You'll find a wide range of species throughout the lake such as muskie, pike, walleye and bass. There's also a large number of ice huts and bungalows to rent out, making for an easy and enjoyable ice fishing trip!
Lake Simcoe:
Often referred to as the ice fishing capital of Canada, Lake Simcoe has to be on your list of places to fish this winter! There are a few huts available and it's just a short drive from Toronto, making it an excellent spot for those who don't want to travel too far from the city.
Hamilton Harbour:
The Hamilton Harbour has slowly but surely become one of the most popular spots for ice fishing in Ontario because it's the closest to Toronto. You'll find a decent amount of walleye swimming around through the winter but you may have to DIY your setup at the harbour. Although the fish have been cleared as safe to eat, keep your eye on the ministry's list of safe fish before you grill up the Hamilton walleye for dinner!
Georgian Bay:
Georgian Bay is a classic spot for fishing any season in Ontario! You can expect to find salmon, sturgeon, pike and more depending on the spot you choose. If you're new to ice fishing, you may want to choose from a range of guided experiences. Either way, you're sure to have a great time out on Georgian Bay!
Other Fishing Options in Ontario
Interested in other fishing options within Canada?  These spots are amazing for fly fishing and you can't miss the top 10 places to fish in Ontario. You can also check out the top female anglers in Canada for their best tips!
If you're looking for new places to fish this winter, LandPass is a free app that connects explorers with exclusive land for hunting or fishing! Connect with us today to learn more about the app and get book your next fishing trip.