New to fishing? If so, you may be confused about the different terminology and types of fishing that are out there. Today we're looking at the difference between bowfishing vs. bass fishing and determining the pros and cons of each. Which one is superior? Let's find out!
What is Bowfishing?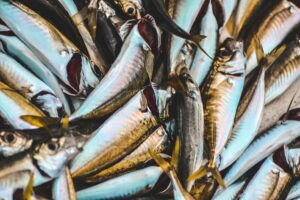 Bowfishing isn't what most people think of when they start planning a fishing trip. It's a less traditional method of fishing with the use of a bow. People commonly go bowfishing in rivers, lakes, flooded fields, marshes etc.
So what equipment do you need?
To get started you'll need to have three key pieces on hand:
A bow – As the name suggests, you'll definitely need to pick up a bow!
A reel with a heavy line – The design and line retrieval varies.
A fishing arrow – Fishing arrows are heavier than regular bows as extra force is needed when piercing through the water.
If you're just starting out, you can always get your gear at a second-hand shop and get your own once you've gotten the swing of things!
What is Bass fishing?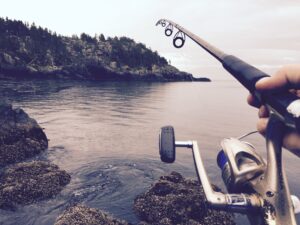 Bass fishing is the most common way to fish, as it's extremely versatile! You can try fishing from the shore, a dock, kayak, boat and more. What makes it so popular is the minimal equipment needed to take with you on a fishing trip or day by the lake.
Bass fishing equipment:
Rod & reel – A spinning rod and reel is a good place to start for beginners.
Lines – This is the missing link between you and the fish! You can find the different types to choose from here.
Lure/bait – Since we can't always see the fish underwater, you'll need something to draw them in. There are many types of artificial lures or live bait options as well. You can store it all in your tackle box when you're on the go.
Pros & Cons of Bowfishing vs. Bass fishing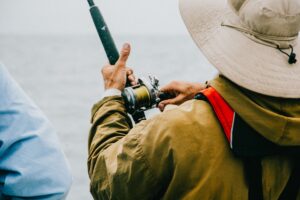 Because both types of fishing are very different there are many pros and cons that go alongside each fishing method.
Bowfishing
Pros:
Satisfaction – When it comes to hunting, shooting your prey is a huge part of it. It wouldn't be as satisfying to simply catch a turkey or deer, so why would it be any different in fishing? Bowfishing allows you to go after the fish and take your shot!
Less equipment – Fishing should be a relaxing activity and there's nothing fun about carrying a bunch of gear with you! Bowfishing is one arrow vs. who knows how much tackle. When given the option, most would prefer to leave all the tackle at home.
Catch bigger fish – Why only get your hands on a 3 pound bass when there's a 30 pound fish calling your name? Bass fishing can only handle fish at a certain weight, meanwhile, bowfishing doesn't have the same restrictions.
Bowfishing boats are cheap – When you compare the cost of bowfishing vs bass fishing boats, you'll see a huge difference! If you're looking to save some cash, bowfishing is the way to go!
Cons:
It requires more skill – If you're just starting out with fishing, bowfishing may be a little challenging at first.
Bass fishing
Pros:
It's easy to learn – Since bass fishing is so popular, many people are knowledgeable and can teach you the basics quite quickly.
You'll have more people to fish with – Even if you aren't heavily involved in the fishing community, chances are that you'll have friends or know people you can fish with. Bass fishing is the most common type of fishing, so it's never a problem to find company!
It's more relaxed – Bowfishing typically requires much more action and movement than bass fishing. While that can be fun sometimes it's nice to spend a day out on the water in a more relaxed setting.
You can catch and release – If you'd like to try fishing but aren't sure if you want to take the fish home with your afterwards, you can always try the catch and release method! This isn't really possible with bowfishing so if you're hoping to let the fish go afterwards, bass fishing is the best option for you.
Cons:
You might be waiting for a while – Bass fishing sometimes requires a great deal of patience. If you aren't willing to kick back and wait for the fish to come your way, you might want to try bowfishing instead.
Let's go fishing!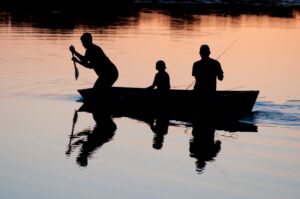 Regardless of whether you choose to pick one method of fishing or mix it up, nothing beats a fishing trip! After looking at bowfishing vs. bass fishing, it's clear that both methods of fishing have their pros and cons. With that being said, you should choose a style that suits you and will learn more about fishing as you go.
LandPass is a free app that connects hunters and fishers with exclusive property! Find out more about the app and come back to our blog each week for updates, tips and tricks and all things outdoors.